TT 2500 FLUIDES illuminated purlin totem pole
Combines end-of-fault signalling and energy distribution
B360° alignment:
Its night visibility is achieved by a 4-sided 360° LED bulb.
Robustness :
The material of this totem pole is robust, unalterable and unbreakable.
Easy maintenance:
The totem is equipped with a large access hatch at the back for easy maintenance.
316 L marine stainless steel
Lockable technical access door at the rear
H = 2500mm, W = 350mm, D = 350mm
4 points outside on the base
1 to 4 water outlet(s) (¼ turn valve or quick coupling)
Stainless steel braided hoses
General shut-off valve with bleed-off
1 316L stainless steel water/electricity separation plate
1 2P or 4P main switch
1 50mm² distributor
1 to 4 Socket(s) 16A, 32A, 63A - 230V/400V (depending on model)
1 to 4 Earth leakage circuit breaker(s) 30mA, externally reset
1 to 2 IP67 breaker reset window(s) on sides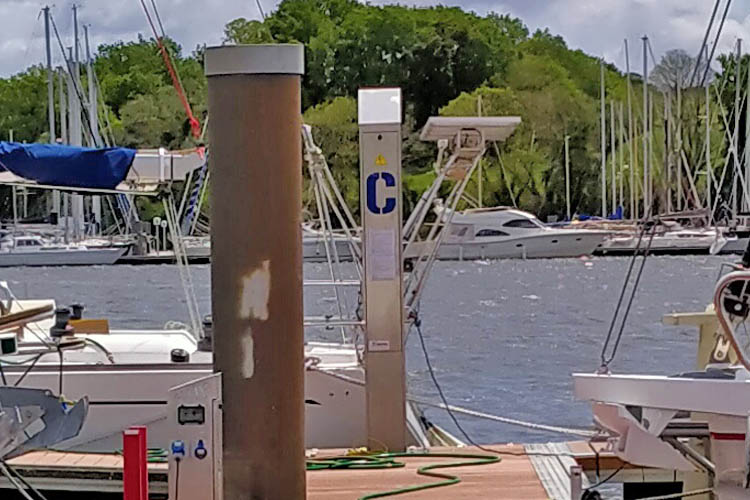 This 316L marine grade stainless steel totem pole allows the identification of faults by numbers or letters and the distribution of water and electricity
Thermo-lacquered in any RAL colour
Valve size 15/21 or 20/27 Solenoid valves Water meter Heating cable Timer
LED lighting Twilight switch or clock (lighting management) Infrared detection to vary the lighting intensity when a yachtsman passes by the pontoon Heating cord or thermostatically controlled heater
Remote management of the water and electricity supply to the harbour master's office


Our equipment meets 
to the same safety requirements
Protection class IP44, IK10, NF C 15-100, Publication UTE C 18-510, 1997 edition, Complies with the decree of 14 November 1988, n° 88-1056
Would you like to talk to a specialist in marina design?
Check out our full range of equipment for your marina