Stand-alone operation:
Cette station de carénage est prévue pour fonctionner de façon autonome soit en accès libre ou en l'activant à l'aide d'un badge
Environment :
Elle se bloque automatiquement à la hauteur de la marée pour empêcher le carénage inapproprié afin de protéger l'environnement.
Choice of two models of lances:
- Rotobuse: Very high pressure
- Flat: Softer pressure
316 L marine stainless steel
Lockable technical access door at the rear with fluted key
HP20: H = 1500mm, W = 1500mm, D = 750mm
1 General disconnector 4P
2 High pressure units + lance, pressure 150 to 200 bars_15l/min
2 Hose reels (hose length depending on installation)
1 ¼ turn general shut-off valve with bleed-off
1 General electrical cabinet
2 Emergency stop buttons
2 On / Off buttons with indicator lights
1 Service indicator
2 Pump fault indicators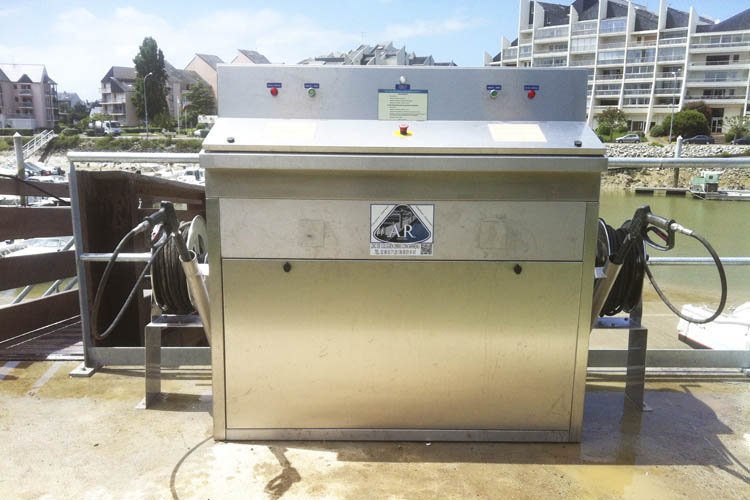 The HP20 careening station, equipped with two high pressure units, is designed to careen boats for two simultaneous users
No means of communication
Control system (badge, code,...), Token machine
1 to 4 Stainless steel tap(s) or quick coupling(s) Automatic hose reels
1 to 4 Socket(s) 16A, 32A - 230V/400V + DDIFF 30mA


Our equipment meets 
to the same safety requirements
Protection class IP44, IK10, NF C 15-100, Publication UTE C 18-510, 1997 edition, Complies with the decree of 14 November 1988, no. 88-1056, Sockets in accordance with standard IEC 309
Would you like to talk to a specialist in marina design?
Check out our full range of equipment for your marina